Thursday, November 09, 2017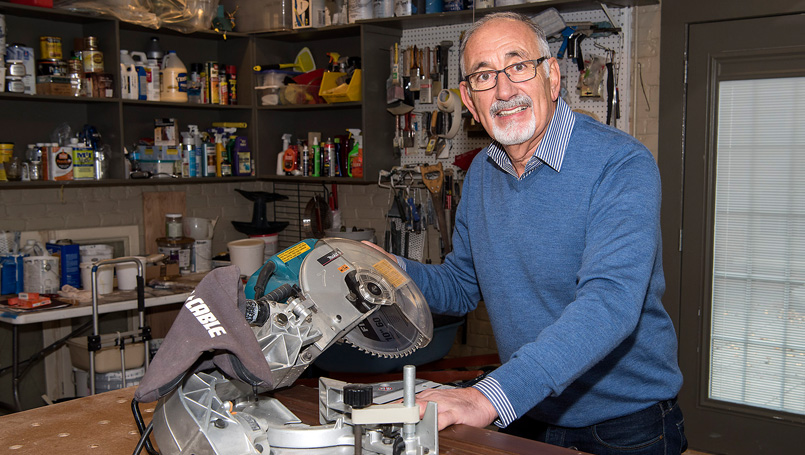 Until he was diagnosed with an irregular heartbeat, about this time last year, Dino Bakalis, 68, of Grosse Pointe Parke, was cycling 150 miles each week. That's when he began experiencing heart palpitations and trouble breathing.
Suddenly, he was no longer able to ride his bike long distance, lift weights in his home gym or spend time in his home workshop.
Atrial fibrillation, or afib, is an irregular heartbeat that causes the heart to work inefficiently, reducing the ability to exercise and increasing the risk of stroke.
In April, Bakalis had a procedure called catheter ablation which stops afib in its tracks. The procedure works by building a wall of scar tissue around the vein that emits the irregular heartbeat, thus preventing the arrhythmia from traveling to the rest of the heart.
Beaumont provides the latest ablation technologies and is one of the highest volume centers for ablation treatment in the state.
Following the procedure, patients traditionally wore a bulky, awkward heart monitor on their belt or in a sling for 14 days to ensure that their arrhythmia had been resolved. Such a monitor would affect a person's ability to sleep, bathe and exercise.
Instead, Bakalis' was able to use a biosensor called the Zio patch. About the size and thickness of a large watch, the Zio patch is worn on the chest over the heart.
As a result, he was able to get back to doing the things he loves, such as cycling, exercising and working in his home workshop, almost immediately after surgery.
"I preferred using the patch," said Bakalis, retired from a family-owned construction business. "No tapes or wires. It didn't hold me back at all. I was able to garden and take part in all my typical routines."
Because the technology is convenient, patient compliance rates are much higher than with traditional monitoring, said Bakalis' cardiologist David Haines, M.D.
In addition to patient convenience, the patch helps physicians more accurately diagnose cardiac arrhythmias by providing concise, transparent and actionable reporting.
"It used to be about sorting through reams of biometric data, or finding the needle in the haystack," Dr. Haines said. "But not anymore. The information this device provides is complete, reliable and easy to interpret. We no longer have to sort through hundreds of pages of EKG readings to detect a possible arrhythmia."
"Dino is a good guy with a good result from a catheter ablation," Dr. Haines continued. "His recovery was fueled by a new and better way to collect heart rate data. We couldn't be more pleased with the outcome."