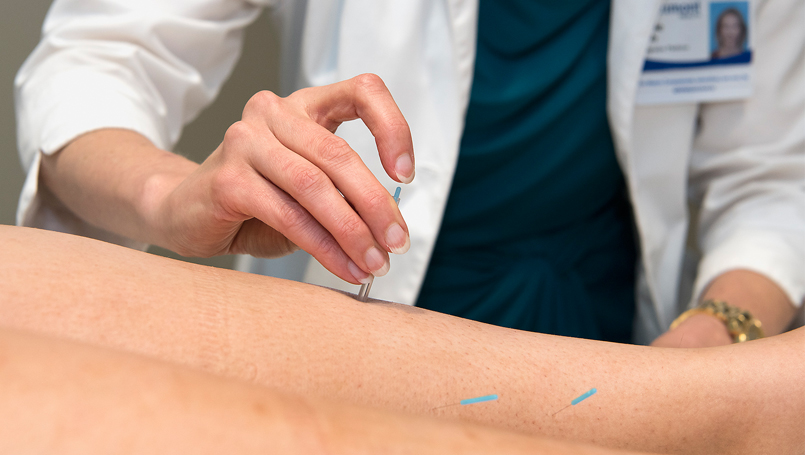 Ellen Guenther first tried acupuncture seven years ago, due to severe tightening of the chest wall following mastectomy and reconstructive surgery for breast cancer.
"They caught my cancer early and I didn't need radiation or chemotherapy," said Guenther, 66, of Bloomfield Township. "Now, every time I go in for a follow up appointment they say, 'Whatever you're doing, keep it up. You're doing great.'"
"I feel good, too," said Guenther who receives treatments at the Sterling Heights Family Medicine Center across from Beaumont Hospital, Troy. "The acupuncture has helped me with so many things."
Chinese medicine defines acupuncture as a technique that restores the body's natural energy or "life force" known as "qi" or "chi," by strategically placing thin needles into the skin at specific points throughout the body.
I feel good. The acupuncture has helped me with so many things.

Ellen
In the west, acupuncture is defined as the stimulation of nerves, muscles and connective tissues in such a way to trigger the body's natural opioids or pain killers.
Studies show that acupuncture also has an anti-inflammatory effect and increases blood flow throughout the body.
By eliminating "blockages," acupuncture relieves pain, boosts energy and helps restore the body's natural order of operation, explained Guenther's practitioner, Beaumont Health acupuncturist, Kylie Study.
Although Guenther continues to receive monthly treatments, a life-long back problem is now her primary concern.
For Guenther, whose L-4 and L-5 discs, located in the lumbar region of the spine, were herniated in a canoe accident as a teenager, acupuncture significantly reduces the related pain and stiffness and enables her to maintain mobility.
"I garden and watch my eight-year-old grandson twice a week. I have no trouble keeping up with him," said Guenther, who also receives regular massage.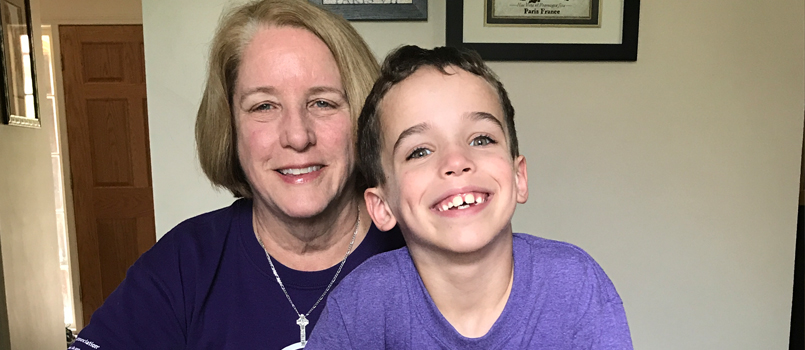 Study, who left her research job in immunology to earn a Master's degree in Traditional Chinese Medicine is certified by the National Certification Commission for Acupuncture and Oriental Medicine and registered with the state of Michigan.
"After experiencing fantastic results with acupuncture for my own health, I knew it was something I wanted to learn more about. I wanted to help others to manage their health with acupuncture."
An open mind and attitude, Study said, has propelled Guenther's success.
Guenther, who's also studied Reiki, has always been keenly interested in foregoing pharmaceutical treatments in favor of natural ones. That system of belief was nurtured during a four-year stay in Japan, where acupuncture was commonplace.
"Whenever I come in for an appointment, I tell Kylie what's ailing me and that's what we work on that day," Guenther explained.
Last February it was pain from a broken rib following a fall on vacation in Thailand. Another time, she tumbled and hurt her knee on uneven pavement in San Francisco.
"The acupuncture helps me stay active," Guenther said with a laugh.
Study does a great job of explaining where and why the needles are positioned, Guenther said.
Sometimes Guenther lays face up during an appointment, other times, face down.
"It's so relaxing," she said. "It's a monthly tune up that takes me back to normalcy. I'm just not one to use medication."
As traditional physicians seek new ways to treat pain in the wake of growing awareness of opioid use, abuse, addiction and overdose in the United States, Study said, interest and acceptance of acupuncture will continue to rise.
Case in point: the American College of Physicians just this year added acupuncture to its recommended protocol for treating chronic back pain.
And in its 2017 education blueprint for health care providers, the U.S. Food and Drug Administration urged physicians to consider acupuncture, particularly in treating musculoskeletal and chronic pain.