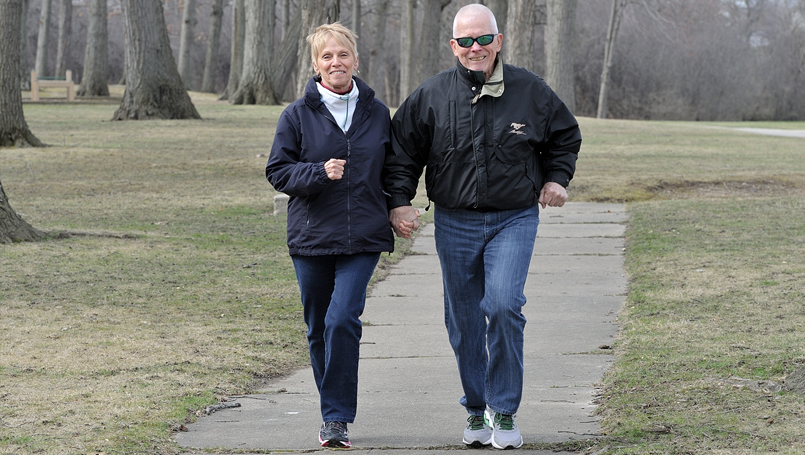 Leslie Wolcott is not your typical 75-year-old man. He is an avid athlete who enjoys hiking, biking, golfing, bow hunting and kayaking. Until a few years ago, he was also active in hockey and long-distance running.


According to the Centers for Disease Control and Prevention, 1 in 3 men and 1 in 2 women engage in no physical activity by the age of 75. For Wolcott, a lifelong athlete, physical activity is much more than improving his health – it's a way of life.

Over the last several years and after five minor knee surgeries, the Huron Township resident began to experience more frequent and more intense pain in his knee joints. The discomfort affected his activity level and kept him from getting quality sleep at night.

"It was so challenging for me to continue to do the things I loved to do," said Wolcott. "I couldn't run long distances anymore or play hockey. And I couldn't find a comfortable position when I went to bed – not with my knees together, not on my stomach or on my side. I don't believe in taking pain medication, so it was time to pursue something else."

After doing some research and with a confirmation from his family physician, Wolcott made an appointment with Kevin Sprague, M.D., an orthopedic surgeon based out of Beaumont Hospital, Trenton.

"One of the first things I told Dr. Sprague was that I wanted to be able to hunt with my friends by November."

Dr. Sprague recommended a replacement of both knees. The first surgery took place in January 2012. The second, six months later.

"Pain is pain, but he did exceptionally well because he's active and exercised daily," said Dr. Sprague. "There's nothing he doesn't do and now he's back to doing the activities he enjoys most."

Wolcott and his wife Greta walk daily through the wooded area near their home and reflect on their good fortunes. Health is always at the top of that list, and it's why he's begun an annual tradition of making an important phone call.

"He calls every year around Christmas and says how appreciative he is for the care he received and the quality of life he's gained," Dr. Sprague said. "We don't always receive calls like that, so it's meaningful for us too."

Wolcott has had to modify some of his activities, like walking combined with a light jog instead of a run, but he still fills his days with as many seasonal activities as he can.

"I'm light years away from where I was. If you don't push yourself, you can't get to where you want to be. It's got to come from the inside and rehab has become a daily activity for me."

And when asked about his No. 1 priority this month, Wolcott said he's simply waiting to play golf when the weather warms, and spend time with his buddies.