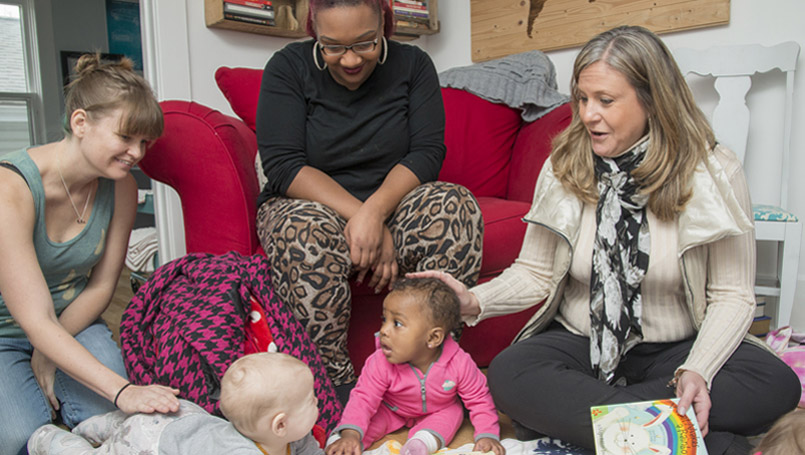 Beaumont Children's offers support and resources well after parents leave the hospital
When Sara and Graham Kuhn welcomed their first child, a girl, the couple's friends and family didn't exactly know how to react - Grace was born 10 1/2 weeks premature, weighing 3 pounds, 7 ounces. Grace Kuhn spent 41 days in the NICU at Beaumont Children's in Royal Oak, Michigan, following her delivery on Feb. 12, 2014.
"On Valentine's Day, I visited my baby," said Sara Kuhn. "I was physically and emotionally exhausted, and feeling sad. Friends and family are unsure how to react, so the normal, hearty congratulations and excitement aren't as forthcoming."
But when she arrived to her room, it was covered with paper hearts and decorations with Grace's name. "It felt wonderful to know that other people were acknowledging that my baby was worth celebrating," she said.
The decorations were the handiwork of parent volunteers with the Beaumont Children's Parenting Program. As Sara frequented the unit, she became acquainted with the NICU coordinator for the program. Through that contact, she was matched with a Parenting Program volunteer, a parent with a similar experience, who became a lifeline.
Now, the Kuhns, whose daughter is thriving at the age of 2, are helping other parents. Sara volunteers with the program and gives back to new parents. "It's a joy to help new parents find their confidence the way that the parenting program helped me to find mine," she said.
In 1980, Michigan State University and Beaumont Hospital initiated a project combining family systems and child development with social support. Highlighted as part of Beaumont's community benefit reporting, the goal of the program was to prevent child abuse and neglect by educating first-time parents with the help of trained parent volunteers.
Today, Beaumont Children's Parenting Program is the only comprehensive, hospital-based parenting program in Michigan and one of the few in the country. To date, it has served the needs of more 100,000 families; and 300 volunteers helped educate more than 6,000 families annually by visiting new parents at the hospital, providing followup phone calls, making home visits and leading parent groups.
Volunteers visit all first-time parents and offer them the opportunity to sign up for two services, which include individual family support and parent groups. For individual family support services, parents receive weekly phone or email support and education during the first two to three months postpartum. Home visits are also offered.
Parent group services start when babies are between 3 to 5 months of age, and group members meet bi-monthly for six months. During meetings, families learn about CPR, nutrition, child safety, common childhood illnesses, infant massage, development and temperament. Specialty groups are also offered for single mothers, families of multiples, NICU families and parents struggling with postpartum depression. To manage and train volunteers, program staff members have a range of backgrounds and expertise. Experts include: nurses, psychologists, social workers, infant mental health specialists and counselors.
"As a primary prevention program, we need to keep in step and move in sync with the next generation of new parents," said Deanna Robb, program director. "As market trends shift and families' needs change, our program continues to evolve, finding innovative ways to meet the needs of the community."
Starting in 2008, to address families' changing needs, Beaumont's Parenting Program developed a program focused on postpartum depression. In 2012, the program began offering free in-room car seat safety education to new parents. All of the Parenting Program's services are provided at no cost.
Jason Pyciak's daughter, Natalie, spent the first five months of her life in the NICU. Beaumont's program helped support him during that time, and now he supports parents who are going through similar situations. "I can show them things do get better because we've been there," he said. "By the end of our meeting, there are a lot of smiles, and hopefully even some laughter and new friendships formed."
Note: This story recently appeared in the summer issue of Children's Hospitals Today magazine