Friday, September 21, 2018
With her favorite music playing in the background, 8-year-old Auriana Charbonneau is helped onto the treatment table. A table so high-tech, it looks like something out of Star Wars. After 27 treatments, the custom mesh mask fitted to her face and head feels familiar. It keeps her still during treatment. The machine targets the location of her brain tumor, a cyclotron and gantry deliver a high-speed beam of protons to kill the tumor cells.
After nearly six weeks in Michigan, to receive proton therapy for her brain tumor, Auriana's extended family has grown thousands of miles beyond her home on the big island of Hawaii. On Sept. 4, a grateful girl with a big smile shared Hawaiian candy with her medical team in celebration of her last treatment, No. 28.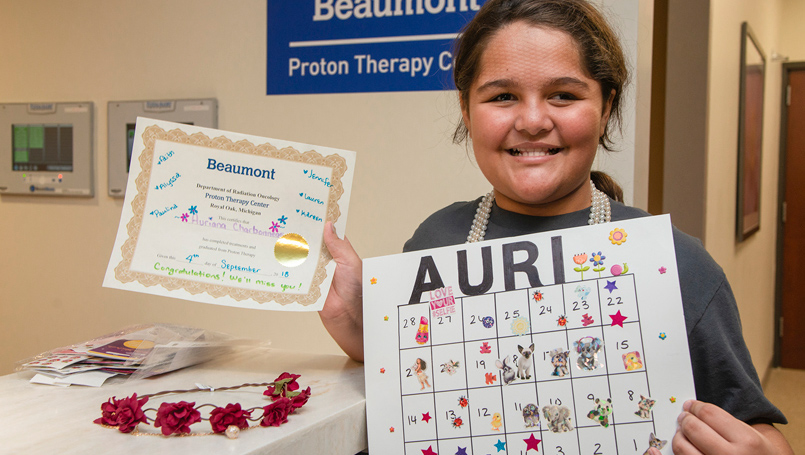 Brain tumor growth
Ten months earlier, an MRI scan showed Auriana's brain tumor was growing again. Her parents began researching treatment options and father, Matthew Charbonneau, talked with Auriana's doctors and did some investigating online.
Auriana and her family have been through a lot. At 2, surgeons removed as much of her brain tumor, a pilocytic astrocytoma, as possible. Her tumor can cause unrelenting headaches and resulted in the loss of sight in her left eye. Because of the location of her tumor, and possible complications, additional surgery was no longer a viable treatment option. Without further intervention, continued tumor growth could cause considerable neurologic symptoms and even death. However, the Charbonneaus learned proton therapy, a high-tech alternative to traditional X-ray radiation, was a promising option.
High-tech treatment option: protons
Proton radiation, along with the latest imaging technology, zero in on a tumor's cells. A scanning beam of proton radiation with online image guidance offers greater precision to destroy cells, sparing adjacent healthy tissue with fewer side effects. Intensity Modulated Proton Therapy, which combines Pencil Beam Scanning and 3D Cone Beam CT, can target a tumor within less than a millimeter, "painting" the radiation dose, one spot at a time.
Prakash Chinnaiyan, M.D., radiation oncologist at Beaumont's Proton Therapy Center and Auriana's physician, explained, "Proton technology really benefits patients like Auriana. Unlike traditional X-rays that continue to exit through the surrounding tissue, protons get to where they need to go and then abruptly stop. The amount of healthy brain being exposed to unnecessary radiation is considerably reduced. This minimizes long-term side effects and complications associated with radiation, including neurocognitive deficits, endocrine abnormalities and vision loss. By reducing radiation exposure, proton therapy also decreases the chances of developing secondary cancers later in life."
Proton therapy uses positively charged atomic particles, traveling up to two-thirds the speed of light, to fight cancer. A cyclotron, or particle accelerator, creates protons from hydrogen molecules.
Now, the third-grader, along with her family and medical team, are hopeful the power of protons stopped the growth of her tumor.
Auriana's oncologist and neurosurgeon in Hawaii, encouraged the Charbonneau family to look at all treatment options. Her dad said one doctor encouraged them to pursue proton treatments. Matthew's research led him to Beaumont's Proton Therapy Center in Royal Oak.
"Beaumont had the most advanced proton technology," said Matthew.
Stars align
For Matthew, a Michigan native who lived in northern Oakland County until age 6, it was as if the stars had aligned. Treating Auriana's cancer at Beaumont's Proton Therapy Center would not only offer the latest proton treatment technology, but also give him a chance to connect with family in Metro Detroit, and introduce his wife, son and three daughters to his roots.
Picking up and flying his young family 4,300 miles from Honokaa, Hawaii to Royal Oak, Michigan was an undertaking. Auriana would receive proton therapy five days a week as an outpatient for about six weeks. Financially, it would have been more practical to have one parent travel with Auriana. Despite the sacrifice, Matthew and his wife, Jolee, decided that they all should be together to support Auriana. Jolee was six months pregnant when they all arrived in Michigan.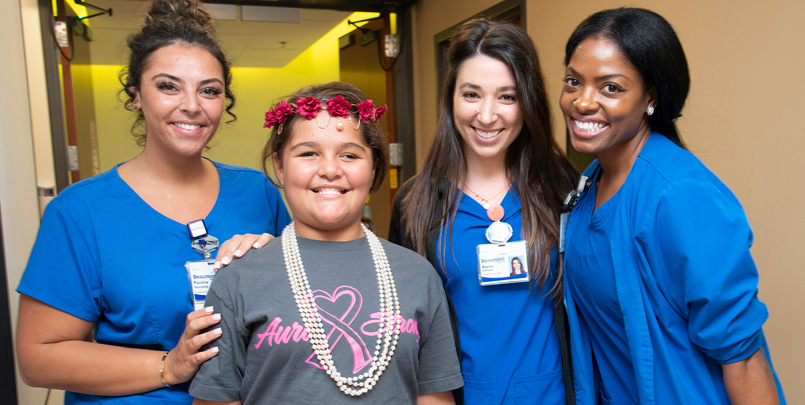 Family affair
Said Matthew, "We decided to make it a family affair. We're making it work."
For Auriana, and her siblings, this is their first trip to the mainland. Their father has taken them on numerous outings locally and beyond to take in the sights and tastes of Michigan. Matthew would like his family to stay for Auriana's follow-up appointments, but they're undecided. He'd like to see his kids experience snow.
After weeks of proton treatments, Dr. Chinnaiyan, an expert in brain tumors, said, "Auriana's prognosis is good. Her future, decades down the road, looks bright. For an 8 year old, she really is an amazing patient. I was so impressed by her maturity, attitude and courage."
In the Hawaiian culture, ohana means family. Not only did Auriana have her immediate family through her 28 proton treatments, but also her new family at the Proton Therapy Center.
"Auriana got to know most everybody at the Proton Therapy Center, the staff and medical team. They all couldn't have been any nicer," explained Matthew. "They go above and beyond. When we meet with the nurse navigator and Dr. Chinnaiyan, they are so caring, it feels like family."
Despite the long-distance travel and uprooting his family, Matthew says the decision to bring Auriana to Beaumont's Proton Therapy Center was "all worth it."