Friday, September 23, 2016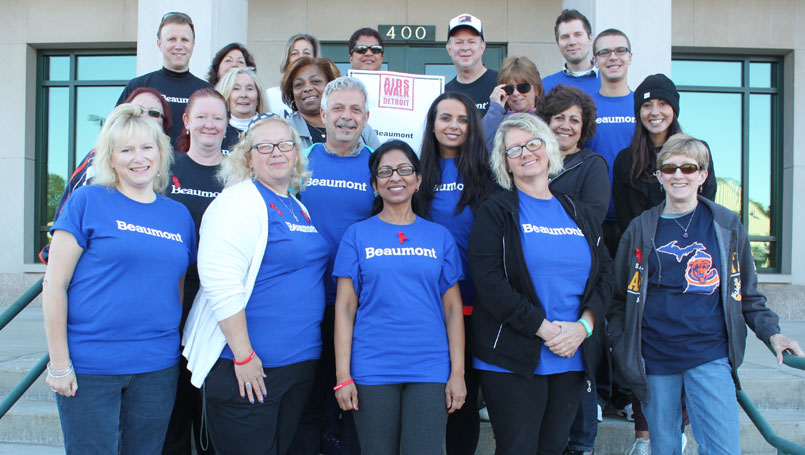 The 2016 AIDS Walk Detroit takes place Sunday, Sept. 25 in Royal Oak.
95% of funds raised by the Beaumont team are used to provide patient support and adherence materials, develop educational programs and raise community awareness of HIV/AIDS.
After more than 30 years, HIV-related stigma continue to be a barrier that we must overcome to reach the goal of an AIDS-free generation in the United States.
We asked several past participants why they walk:
"I participate to show my support for and with this vulnerable patient population and to represent Beaumont and the valuable services we provide."
Linda Caurdy-Bess, Manager, Social Work, Beaumont Hospital, Royal Oak
"I walk to show my support in bringing this epidemic to an end and want to showcase the strength we have at Beaumont for our commitment towards that initiative."
Leela Ganganithi, Laboratory Assistant, Beaumont Hospital, Royal Oak
"I walk in remembrance of my brother Anthony and for everyone living with HIV/Aids."
Dean Caputo, MSN, Director Medical Surgical & Progressive Care Nursing, Beaumont Hospital, Troy
"I walk to fight stigma associated with this chronic condition and to support those living with HIV/AIDS."
Levi Hall, Pharmacy Specialist, Beaumont Hospital, Royal Oak
"I walk to let patients and the community know that their physicians stand with them."
Paul Johnson, M.D. Infectious Disease, Beaumont Hospital, Royal Oak
Beaumont has had a team at AIDS Walk Detroit since 2011.