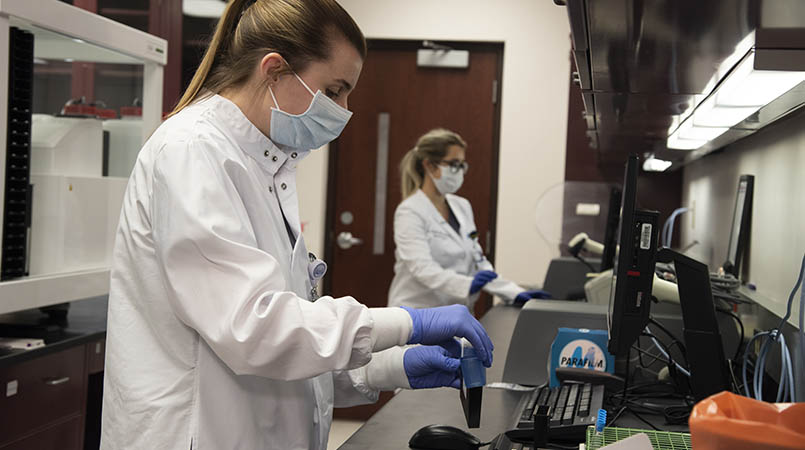 A group of longtime and dedicated Beaumont Health donors have led the way in getting the nation's largest COVID-19 serological testing study off the ground.
Beaumont Health's Research Institute launched its Serological Testing Study in mid-April to help answer many questions surrounding the spread of COVID-19 and potentially help treat patients battling the virus. The study would not have been possible without significant gifts totaling more than $4 million from Sidney and Madeline Forbes; Nathan and Catherine Forbes; the Edward C. Levy and Linda Dresner Foundation; Stephen and Bobbi Polk; Elizabeth Rose; Warren Rose and the Rose Family; Mickey, Steven, Margie and Edward Shapiro; Gwen and S. Evan Weiner; and the Hearst Foundations.
"We are so grateful to these generous, long-time donors who have stepped up to support this important research. We could not proceed with this project without their support," Beaumont Health CEO John Fox said.
"The generosity and compassion of these donors is playing a large and important role in helping our researchers uncover important answers about the COVID-19 pandemic," said Margaret Cooney Casey, president of the Beaumont Health Foundation. "They are leading the way in helping us begin to heal our community and begin our transition to the new normal."
Serological testing uses blood samples to detect antibodies the body creates to fight an infection. In the case of COVID-19, antibodies might develop as soon as three to six days after infection. Even after the recovery from COVID-19, antibodies remain. In many other infections, antibodies offer immunity against reinfection. The study will help provide insight as to whether COVID-19 antibodies offer any protection post infection – and if so, for how long.
Additionally, this study will help answer how widespread the virus is in our community. According to the Centers for Disease Control and Prevention, as many as 25 to 50 percent of people with COVID-19 might not show symptoms. However, those individuals could still spread the disease to others. By testing up to 38,000 voluntary Beaumont Health employees, this study will identify the number of people who have COVID-19 antibodies who never reported any symptoms – and help better extrapolate the virus's presence in the general population.
"In addition to answering key questions on infection spread and the percentage of total asymptomatic cases in a community, we intend to relieve anxiety through a better understanding of the spread of the infection across Beaumont Health," Beaumont Health Vice President for Research and Director of the Beaumont Research Institute Richard Kennedy, Ph.D, said.
The study might also help with developing a potential treatment for the virus. Individuals who are found to have high levels of COVID-19 antibodies in their system could be recruited to donate plasma for a procedure called convalescent plasma transfusion, which can be used to treat patients who are in the gravest danger. This treatment has been done in China with notable success, helping a number of patients on ventilators and near death improve enough to begin breathing again on their own.
Beaumont Health also intends to use the data collected through this study to help local and regional businesses plan safely and effectively for their employees' return to work. Beaumont will be in a position to help area businesses begin offering voluntary testing to their employees and develop policies and procedures to most effectively restore services and workflow.
In May, the Beaumont Health Foundation and Beaumont Research Institute presented a webinar about the importance and scope of this study. Additional webinars about Beaumont's COVID-19 research are scheduled to be held in the coming weeks.