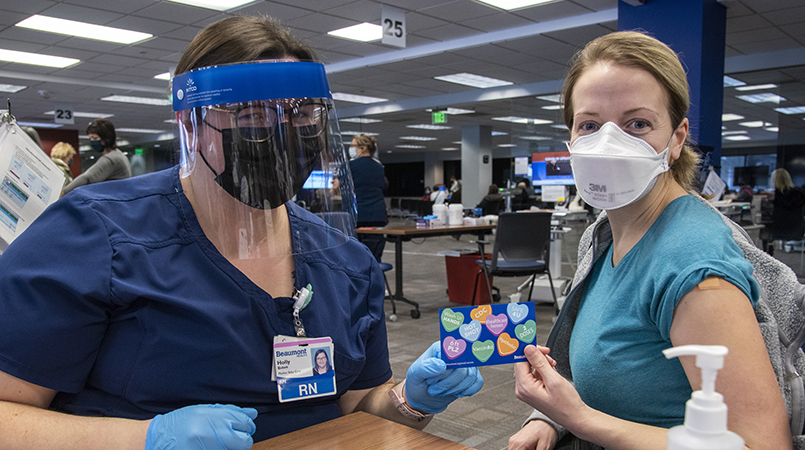 Your support, along with the generosity of countless individuals throughout our community, has always been a driving force behind Beaumont Health. While the past two years have presented Beaumont – and healthcare as a whole -- with unprecedented challenges, the spirit of philanthropy has remained strong in the communities we serve. Since 2020, thousands of individuals, organizations and businesses have joined together to help us raise more than $61 million for Beaumont and the patients we serve.

These gifts have gone toward:
capital projects
patient care initiatives
personal protective equipment
training and education
nursing staff support
research
employee resources
Your critical support has benefitted countless programs and initiatives within Beaumont, helping ensure the best care possible for patients and families throughout Southeast Michigan.

It is a testament to our donors that such extraordinary acts of kindness were made during such a tumultuous and uncertain time, both in health care and in our daily lives. Over the course of the pandemic, no healthcare system in Michigan has provided care for more COVID-19 patients than Beaumont Health. Most recently, when Beaumont faced a significant surge of patients suffering from the omicron variant, our dedicated caregivers once again overcame countless challenges to provide patients with the compassionate, extraordinary care they deserved.

Over the past two years, the Beaumont Health Foundation has received charitable gifts from a variety of donors. First-time givers from as far away as California offered their support when our patients needed it most. Long-time donors and advocates stood with us through the most challenging months of the pandemic, donating meals to our front-line staff and retooling their businesses to provide PPE. Today, those same individuals and organizations remain committed to ongoing priority areas such as heart and vascular services, pediatrics and oncology.

In addition to the substantial support received from outside the organization, Beaumont Health's own employees have continued to go above and beyond for the patients they serve. During the 2021 Spirit of Giving campaign, team members came together to give more than $1 million in support of patients, families and fellow staff members.

The generosity of our donors over the past two years has demonstrated our community's commitment to Beaumont's mission of providing compassionate, extraordinary care. With our new BHSH System taking shape in 2022, supporters will be able to have an even greater impact on patients. BHSH System is poised to transform care in Michigan, and with clinicians and leaders working together to lead our communities out of this pandemic, Beaumont is optimistic about what the future holds.
None of this would have been possible without the life-changing generosity of our donors who have helped accomplish so much over the past two years. We look forward to seeing what we can accomplish together in the future.