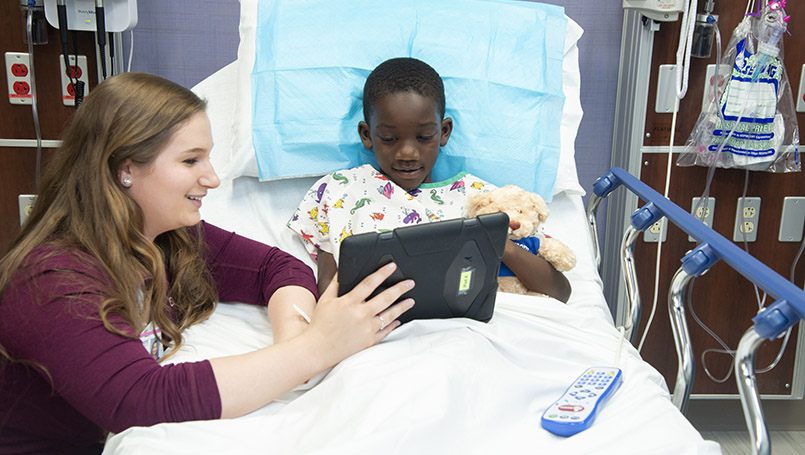 Children's Miracle Network (CMN) awarded Beaumont Children's $2.1 million to support more than 50 pediatric programs throughout Beaumont Health. Thanks to the generosity of donors, corporate sponsors and the community, this funding supports pediatric programs and services, medical equipment and scholarships for families who need assistance in affording care.
The Children's Miracle Network is a non-profit organization that raises funds and awareness for 170 member hospitals across the U.S. and Canada. Since 1988, Beaumont Children's has been the only CMN hospital in Southeast Michigan. Because CMN donations remain within the community where funds were raised, 100 percent of the funds stay with Beaumont Children's to help continue an exceptional level of care for Beaumont's youngest patients throughout the community.
More than 200,000 children in Southeast Michigan benefit from CMN grants at Beaumont's Children's each year. These funds are made possible thanks to the everyday contributions of those who, when asked to make a donation or round up their purchase amount at the register of their local store or restaurant, choose to add extra dollars and cents to their purchase for the benefit of CMN. Seemingly small acts like these happening across the region result in an enormous impact for the health care in our communities.
The Neonatal Intensive Care Unit at Beaumont, Royal Oak – one of three NICUs in the Beaumont system – was awarded funding to purchase equipment and supplies such as OmniBeds. One of the most vital pieces of equipment for the NICU, the OmniBed is an incubator that provides a protective, healing environment for the baby. Designed to be stationary or mobile when needed, the OmniBed prevents infection while also allowing the healthcare team easy and sterile access to the baby. And, perhaps the most important feature, the OmniBed also allows family members to nurture and be present for their baby's experience while in the NICU.
Integrative Medicine at Beaumont hospitals in Royal Oak and Troy also were awarded funds for pediatric treatments. With the goal of improving overall health, the integrative medicine team at Beaumont combines traditional and holistic treatment options to help with chronic pain, anxiety, insomnia, and can even help those undergoing cancer treatment.
The Family Medicine department at Beaumont, Troy will purchase a new audiometer with their award. Use of an audiometer helps physicians monitor and evaluate a patient's hearing threshold. The machine administers tones of different frequencies at different levels to the patient's ear and combined with the patient's response to the sound, the degree of hearing loss can be determined. Hearing loss can be caused by illness, injury or even certain medications. Use of the audiometer helps physicians effectively diagnose and treat their patients.
A committee at Beaumont Children's identifies and grants awards to over 70 initiatives twice a year within the system. This committee of volunteers is comprised of pediatric nurses, physicians and clinical leaders who work everyday to enhance and deliver exceptional care to our youngest patients.
Click here if you would like to make a donation to support Beaumont Children's or call 947-522-0300.