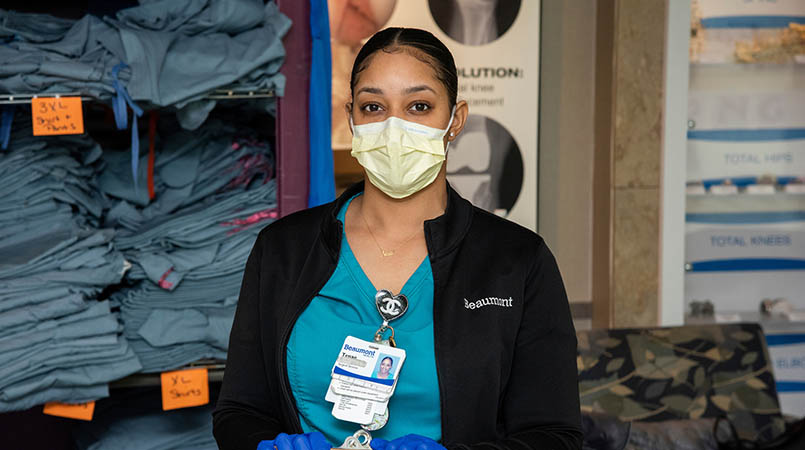 Almost as soon as the COVID-19 outbreak hit Michigan, community members began rallying together to support Beaumont Health by providing both monetary donations along with in-kind gifts of personal protective equipment (PPE) to go directly to our frontline caregivers.
While the majority of the gifts have come from individuals and businesses in Southeastern Michigan, some have come from across the nation – including 4,000 face masks, 680 protective gowns and 690 protective goggles from Brandon Du, a fourth grader in California, and his family.
"I am glad you received my family's [donations]," said Brandon in a letter to the Beaumont Health Foundation. "Thank you for putting them in use for the doctors and nurses at Beaumont Hospital. They are very brave to fight at the front line!"
Brandon said he was inspired to donate supplies to Beaumont Health because his teacher is a Michigan native. He learned that Michigan was one of the hardest-hit states in the country and that Beaumont Health had provided care to more COVID-19 patients than any other health system in the state.
These gifts of PPE play an important role in protecting the physicians, nurses and other health care staff who have been working tirelessly to test and treat COVID-19 patients, along with all the other individuals who have required care during this crisis. Due to the sudden onslaught of COVID-19 patients throughout the country, hospitals around the nation faced a severe shortage of PPE. In-kind donations from community members have ensured that care providers are able to remain healthy as they perform their lifesaving work, and have also protected uninfected patients, reducing their risk of exposure.
"At the height of the COVID-19 surge, Beaumont's doctors, nurses, technicians, transporters and security staff were going through tens of thousands of these items each day," said Margaret Cooney Casey, president of the Beaumont Health Foundation. "The numbers have been staggering, but our community – and generous supporters like Brandon from outside of Michigan – stepped up in an extraordinary way to protect those on the frontlines of this crisis. We are deeply touched and grateful for this incredible outpouring of support."